ENTREPRENEURSHIP CELL
Entrepreneurship Development Cell:
Vision :
To be a center of excellence for entrepreneurship development and to mentor and enhance the entrepreneurial prospective of engineering students to create successful entrepreneurs.
Mission :
To develop entrepreneurial thinking, facilitate the business knowledge and imbibe leadership qualities in engineering students to pursue entrepreneurship through various programs.
Objectives :
1. To encourage engineering students to consider self-employment as a career.
2. To act as an institutional mechanism for providing various services including information on all aspects of enterprise building.
3. To develop better linkages between industry, institution and other related organizations engaged in promoting entrepreneurship activities.
4. Conduct training programs in the field of entrepreneurial skill development.
Flow Chart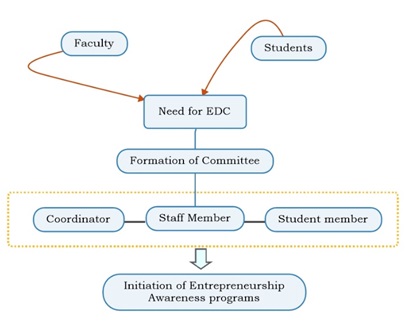 Activities under EDC :
| Sl No | Date | Program | No of Participants | Organizing Body |
| --- | --- | --- | --- | --- |
| 1. | 25-03-2016 & 26-03-2016 | Entrepreneurship Development | 33 | IIPC |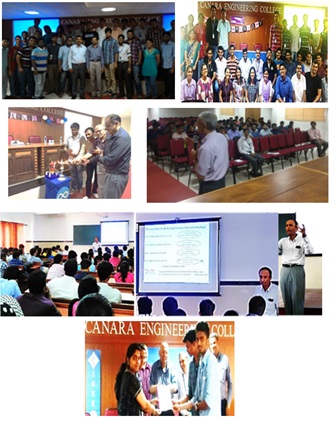 List of graduates from CEC who have turned Entrepreneurs:
1. Mr. Srinivas Padiyar, B.E., Mechanical Engineering (2012 Graduate) Vinayaka Engineering Works, Baikampady, Mangalore
2. Mr. Madhav Shenoy, B.E., Mechanical Engineering (2012 Graduate ) Shenoy Engineering Pvt. Ltd. Bangalore
3. Mr. Shishir Ram Borkar , B.E., Information Science Engineering (2016 Graduate) M.S. Kukkadi Industries, Puttur.
4. Mr. Mayur Bhat, B.E., Electronics and Communication Engineering (2014 Graduate), Co-Founder at FableSquare.
5. Ms. Shreelakshmi Gautham, B.E., Electronics and Communication Engineering (2012 Graduate), Head - Training & Operations at Jnaapti.
6. Mr. Naveen Y., B.E., Computer Science Engineering (2006 Graduate), Founder, Droidveda
Other Achievements:
On 29th January, two students, Sumanth Shenoy and Aditya Pai, both members of IEEECan won the first place in Social Innovation stream in DEFI 2017 - a Startup Event at TAPMI, Manipal, under the aegis of Manipal University Technology and Business Incubator (MUTBI), aimed at giving students an opportunity to pitch their venture idea and empower them through workshops and mentor-ship via association with NASSCOM and MUTBI. The winners are shortlisted for a chance to get an incubation opportunity by MUTBI, one of most prestigious incubators in the country.