Departmental Associations
The Departmental Associations Committee is the driving force behind every department association to enhance the capability of its students, academically, socially, culturally and personally. Every engineering department of the college has its own department association with a faculty member as coordinator. Various department associations are:
Computer Science and Engineering: SPECS
Electronics and Communication Engineering: AIMZ
Electrical and Electronics Engineering: EEEA
Information Science and Engineering: CIPIX
Mechanical Engineering: ACME
Committee Structure:
One of the faculty members of various department associations will be the chairman of central department association committee. Department association committee support students to become more aware of their strengths and weakness.
Mission:
Enhance graduates learning and achievement abilities by supporting them in their academic, personal, cultural and social growth.
Goals:
Refine students' abilities to manage and communicate effectively so as to become responsible professionals.
Objectives:
To sharpen skills and orient attitudes of students so that they are capable of performing better in their professional roles based on the situation.
To empower students to be better communicators by providing them with relevant inputs and also sharpening their skills.
To create awareness regarding managerial capabilities of students through group activities.
To re-engineer attitude and understand its influence on behavior.
Information flow and activities plan of department association committee: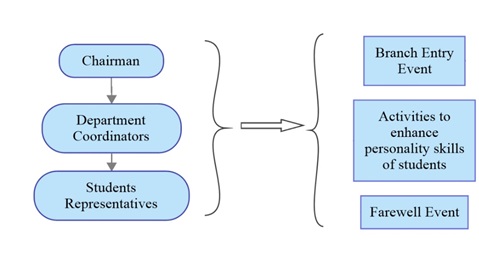 Roles and Responsibilities:
Be familiar with the mission, goals and purposes of the department association.
Plan department association activities and budget and hold regular meetings.
Be an active representative of the department association and serve as a resource, support, role model and mentor to the students.
Members should be present during on campus and off campus events organized by the department association.
Have regular communication with students to implement the activities.
Provide opportunities for students to increase their potential for success, develop leadership competencies and management skills.
Provide continuity with the department association activities from year to year.
Make students feel welcome at all meetings and activities.
Introduction to the department and its resources for fresher's every year.
Summary of events – Departmental associations:
CSE
ISE
ECE
EEE
ME
Year
Events Count
Participants Count
Events Count
Participants Count
Events Count
Participants Count
Events Count
Participants Count
Events Count
Participants Count
2012-13
2
170
1
12
-
-
-
-
-
-
2013-14
4
231
1
10
-
-
-
-
2
146
2014-15
3
300
7
247
-
-
5
336
4
489
2015-16
2
200
11
320
1
37
6
383
3
30
2016-17
7
464
3
86
7
287
5
339
3
8
2017-18
3
328
3
100
4
105
6
286
8
822
2018-19
2
112
2
196
5
180
2
145
3
62